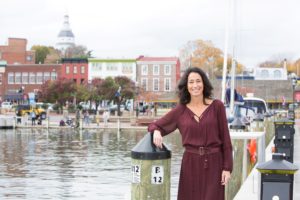 I grew up swimming and love everything about the water. Water was one of the primary reasons that I chose to embrace the Annapolis lifestyle in 2001. Annapolis offers many opportunities to enjoy the water –  paddle boarding, swimming, and boating are three of my favorites.
Annapolis has also been an amazing place to raise my children. We have great sports rec leagues, art classes, outdoor activities, and camps. My kids and I enjoy the best water-amenities in my community, including boating, swimming, paddle boarding and crabbing.
Annapolis is also only two hours away from the Maryland and Delaware beaches! You can take off on a Friday afternoon and find yourself sitting on a beach with your toes in the Atlantic Ocean after a short drive. You won't have to go that far from home to find a beach in Annapolis though. There are also many local public beaches including Sandy Point State Park and Beverly Triton Beach Park.
I will wholeheartedly admit that I'm a little biased to the water and beach amenities that the Annapolis lifestyle offers. You might be just as excited about the amazing variety of restaurants and local shopping options!
Local Dining
Whether you enjoy hot steamed crabs, local farm to table cuisine, handmade drinks or a burger and fries, Annapolis has it all!  Check out Vin909 for amazing small plates (don't miss the warm pulled mozzarella). Vida Taco on Main Street has delicious ceviche and a variety of unique tacos. Cantler's is known for having great local seafood (steamed crabs, anyone?) and is perfect for a casual dinner on the water. Fox's Den has a great happy hour and pizzas. Tsunami, Luna Blu and El Toro Bravo are all within walking distance of each other on West Street. These restaurants offer a wide variety of offerings from sushi to authentic Italian to delicious margaritas! Osteria 177 is a gorgeous spot for a special dinner for two. These are a few of my local favorites, but there are so many more that you're sure to find a personal favorite of your own.
Shopping in Downtown Annapolis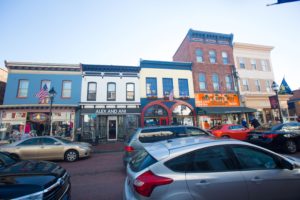 If you love to shop, then look no further than Annapolis. Main Street has a variety of unique and special shops that you'll never see anywhere else in the nation. Don't miss Midnight Madness during the holidays when downtown stores stay open until midnight. During this event you can stroll past carolers, drink hot cocoa, and may even see a few snowflakes falling from the sky. For something more mainstream, there are also plenty of malls and Target too – for those of us who are stalking the new home brand, Hearth & Hand from Magnolia.
I could write an entire book on the Annapolis lifestyle, and plan to share more with you very soon. Be on the lookout for my videos highlighting communities in Annapolis and more Annapolis lifestyle articles about this great town in the future!
Hope to make you an Annapolitan too!