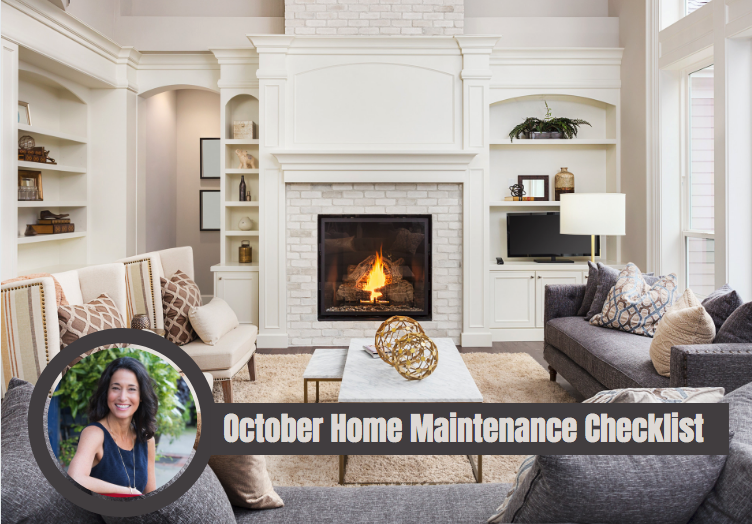 October is here, ushering in crisp, cooler air and beautiful fall foliage. Since we're spending more time at home these days, the focus of my checklist this month is on safety.  I've put together a list of items to get your home ready for the change in seasons, while protecting it and your family.
Replace Air Filters
Change air filters, including the main furnace filter, every 30 to 60 days to increase the efficiency of your HVAC unit and reduce allergens in the air.
Clear Gutters and Down Spouts
Prevent water damage to your home by calling a pro to clear debris from your gutters and downspouts.
Check Fire Extinguishers
Test your fire extinguishers to ensure they work or purchase one for every floor of your home.  For tips on choosing, using and maintaining a fire extinguisher, here's an article from the U.S. Fire Administration, Choosing & Using Fire Extinguishers.
Remove Dryer Lint
Avoid dryer fires by cleaning the lint out of the dryer each time you run the machine.
Clean Your Fireplace
Hire a pro to ensure your chimney is free of debris and bird nests prior to using the fireplace for the first time this season. This article offers tips on what to look for when hiring a professional chimney sweep.
Drain and Store Hoses
Shut off main water supply to hoses and drain them to avoid damage before freezing temperatures arrive.
Following these tips can give you peace of mind that you've made your home as safe as possible for you and your family.
Enjoy October!

Source: Long & Foster Newsroom