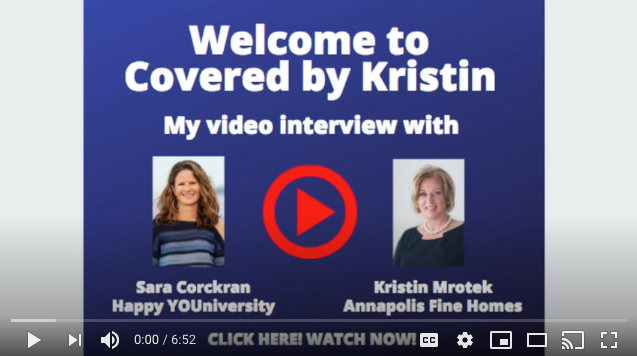 CLICK HERE to watch now!
I'm Kristin Mrotek with the Annapolis Fine Homes office of Long & Foster. Welcome to my video series, Covered by Kristin, where I cover local real estate news, events, people and businesses that may be of interest to you.
I'm here today with Sara Corckran with Happy YOUniversity. Sara, why don't you introduce yourself and tell us a little bit about your business.
Sara: Hi! My name is Sara Corckran and my partner (Erin Baldecchi) and I founded a business called Happy YOUniversity. We teach positive psychology tools and we love to share them in bite-sized and actionable steps, so that people can do it when they want, and where they want, and how they want. Because we find that people don't have as much time as they would like to have.
They know that it's really important to take care of their mental health, but they don't have a big hour or two hour commitment. So, we've narrowed our focus down so that we can meet the needs of all of the people who are interested in improving their wellness.
Kristin: That's great! And I happen to be one of those people! I just joined one of your programs called the "Building Yourself Challenge" where every day I receive a daily dose of positive inspiration first thing in the morning. And an action item, so that I can be thinking about it throughout the day. Can you give us an example of one of those daily nuggets of inspiration?
Sara: Sure! Something that I've been thinking about lately is the importance of accepting the moment that we're in. So, Covid has come with so many challenges and it's really stressed a lot of people out. One thing we know about stress is that stress is caused by being here and wanting to be there. A lot of people are thinking, "Oh, I want this time to be over." Or, thinking "Oh, I want to hold on to some of this time." And, everyone is in a different position.
But, when we think this way, that adds to our stress. Because we don't control the situation and we don't know when it's going to be over or how long it's going to last. So, when we think that way, it adds to our stress. Our stress might be showing up in poor sleep. You know when you feel stress because your body is kind of pumping throughout the day. It lowers your immunity. Over time, it breaks down your body which we don't want. That's no good!
So, by accepting the moment, we take that control back. We say, "Alright, I can't control when this is over. I can't control how long this is going to last. I'm going to accept this moment for the challenges that it brings, and for the learnings that it brings, and the winnings that it brings."
We can do that in small ways. By being present. By focusing on exactly what's happening in this moment. It's really the only thing we can control. So, instead of allowing your thoughts to think forward, or think to the past, we are constantly reframing to, "What is going on right now? What can I see and smell and taste and touch? What is exactly here with me right now?"
So, that is something that I am trying to do and that I'm trying to encourage the people that I speak with to do. I know it's not easy. I fully admit that often times I'll catastrophize or I'll remember something that I really wish was happening again. But when that starts to build up, that's when I know it doesn't feel good and when I know I have to take action. So, I say "OK, this doesn't feel good." Come back to the present moment and accept this moment for the gifts that it's bringing us.
Kristin: That's a really good point. So, if we find ourselves in that situation, what can we say to ourselves in that moment to accept where we are, right here and now?
Sara: That's really tricky! So, everyone is going to come up with their own catch phrase, go-to phrase. I say to myself, "I just want to accept the is-ness of what is here." But, anyone can have their own. We just know that we can feel more present and accepting of this moment. By returning to your breath and by thinking about your senses, will help you to do that.
Kristin: That's very helpful! Thank you! I appreciate that advice today. But, now I have to ask you a forward-looking question. I know you're here in the local Annapolis area, so I was just wondering, whenever we're back to normal, is there a local restaurant that you just can't wait to get back to?
Sara: That's actually a good question and something we do use in positive psychology. It's anticipation and savoring. It's good to look forward to things. It's just that we don't want too much of it.
I promise you I have been spending lots of minutes thinking about Vin 909 Winecafe. I love their pizza. I love a good glass of wine with my husband. They have this Wild Boar Sando. I can't wait to return to normalcy and sit down there, either outside or in their cute little bar area and just savor that moment again.
Kristin: Wow! And, the way you described it makes us all want to go there, too. We'll all be there with you!
I appreciate you joining us today, Sara. Thank you for the helpful information. Before we sign off, I would like for you to be able to tell everyone where they can go to find information about the next "Building Yourself Challenge".
Sara: So, if you follow us on Facebook, you can join our Facebook Group @Happy YOUniversity. You can find out about little nuggets of wisdom that we offer, a Mindfullness Minute that I (or my partner) post once a week, and whatever the happenings are. So, join us i Facebook.
The other thing that you can do that we would love is go to our web site, which is Hyouniversity.com and then you can find out all of the things that we are doing all the time.
Kristin: Great! And, I'll have that Facebook and web site information here for you on the video.
I do hope that you'll tune in and join Sara and become a member of one of the next "Building Yourself Challenges".
Thank you for joining us, Sara!
Take care!
See you soon!