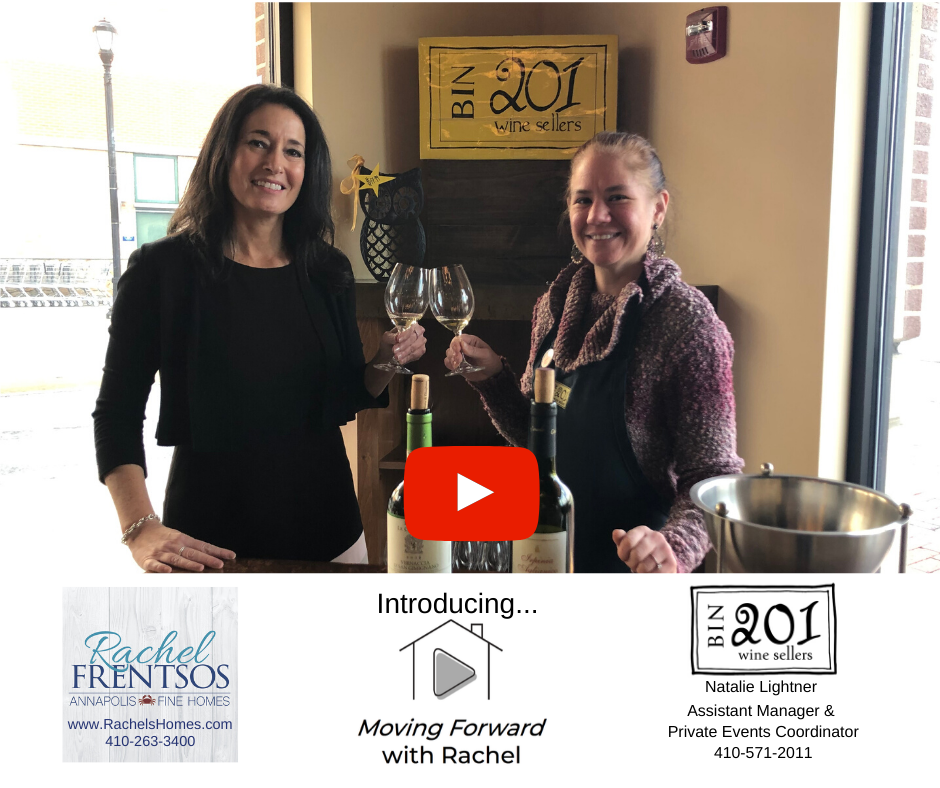 Rachel: Hi everyone! This is Rachel Frentsos with the Annapolis Fine Homes office of Long & Foster, and this is Moving Forward with Rachel. Today I'm here with Natalie at Bin 201. They very kindly hosted my client appreciation event last year and we're doing one next week as well. Thank you so much for coming on with me. I really appreciate it.

Natalie: Thank you for having us!

Rachel: Absolutely! So, can you tell everyone a little bit about the history of Bin 201. 

Natalie: Actually, we're just about to celebrate our 10 year anniversary on February 1, which we call 2/01 day. We've been here for 10 years, right across from Whole Foods in the Annapolis Towne Center. The company is part of the Foreman Wolf Group that has a bunch of restaurants in Baltimore. Tony Foreman, our Wine Director, was often asked, "Where can we get these wines?" so he started our sister location, Bin 604 in Baltimore, and we're an extension of those.

Rachel: How did you come up with the name?

Natalie: A lot of people ask that question. 201 is actually our address. 201 Harker Place.

Rachel: Keeping it simple!

So, Natalie, tell me a little bit about how you select your wines. There seem to be so many wines to choose from, so how do you choose?

Natalie: We have a tasting every Monday with our distributors and everything is tasted, every new vintage. A lot of people don't realize that a wine varies quite a bit from vintage to vintage. So, we test them all to make sure that they are up to standards.

Rachel: You were saying before we got on here that you test 100 wines a week?

Natalie: Yes! Not me personally, but the group tastes. We work as a group at Foreman Wolf, so we taste every new product, every new vintage. So, our inventory does change, but we're making sure we have the best wines. Also, we have wines starting at $6.99 a bottle, so we look for those really good bargain wines as well.

Rachel: Awesome!
So, Natalie, it seems like there are a lot of events going on here. Can you tell me about some of the things that you do for your clients that are different.

Natalie: So, we always have something going on at Bin 201. We have Thursday Tastings, Friday Happy Hour, Classes on Saturday that are in our Tasting Room. You can also rent that room out to have our own private tasting that we will customize for you, which is what Rachel will be doing next Tuesday.

We have our $99 case-of-the-month that we build every month. It's always $99. For the month of February, we're celebrating our birthday and customer appreciation. There's going to be a golden ticket in every one of those boxes. The grand prize is a bottle of Dom Perignon and a private tasting for up to 20 friends. We're doing it big this year because it's our 10 year.

We also deliver with Anne Arundel County.

Rachel: Is there a minimum to the delivery?

Natalie: $50

Rachel: That's great! So, if you haven't visited Bin 201, you need to get down here. It's so much fun! It's a great shop! Natalie, thank you so much for taking your time out to talk to us. We'll see you next week.

Bye!