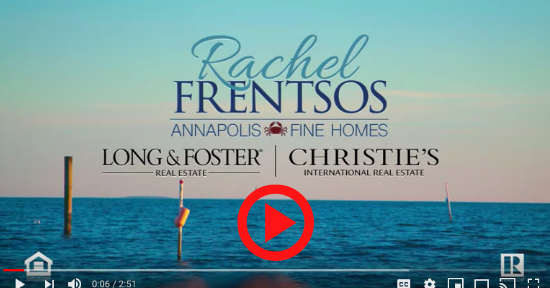 Hi, I'm Rachel Frentsos a REALTOR® with the Annapolis Fine Homes office of Long Foster. I absolutely love living in Annapolis. I love water activities like paddle boarding, boating and swimming. I also love the amazing restaurants such as Lemongrass, Vida Taco and Jalepenos. And, all of the fabulous events Annapolis offers, the power and sail boat shows, the parade of lights and the Blue Angels.
We are also a proud neighbor to Washington, DC, Baltimore, and the Maryland and Delaware Beaches. It would be my pleasure to help you discover this spectacular community.
My real estate career began after moving to Annapolis and purchasing my first home. For nearly two decades as a real estate professional, I have enjoyed the honor of serving hundreds of families, individuals, and investors, just like you, buy and sell real estate in this wonderful community.
Excellent Experience
Brian Baker: The experience was excellent!
Heather O'Neill: The first time we met it was great! And, as soon as we started talking about moving and what we were looking for, she was on it, right away. She immediately sent us information. She immediately sent us homes.
Brian Baker: Rachel knows all of the professional contacts in the area.
Heather O'Neill: She sent us things online. We were able to really get a look at what the homes looked like ahead of time.
Your Real Estate Goals
Rachel Frentsos: Having experienced the uniqueness, excitement and challenges of the real estate process, I became impassioned to help others with their real estate goals.
If you are selling a home, I walk you through the process of preparation, marketing, and pricing to insure the highest sales price possible to the most qualified buyer in the market.
If you are purchasing your new dream home or investment property, I will identify your wants and needs, get you pre-approved, find the perfect property, and negotiate the best price and terms on your behalf.
As a former teacher, I was drawn to educating and assisting buyers and sellers in the process to help reduce the stress and challenges of the real estate experience.
Seamless Process
Heather O'Neill: The entire process with Rachel was seamless. From the minute we met her and started assessing our needs, it was very fast. We were on a very quick timeline.
Brian Baker: Settlement seemed to be effortless for us. It was a very seamless process and we really had a great experience with her. She made it happen.
Your Real Estate Resource
Rachel Frentsos: Since technology dominates our world, I know that the first thing you do when considering a home purchase is to go online. Once you become serious about your move, it's critical to hire the most qualified real estate professional to help navigate you through the process.
If you're looking to buy or sell real estate in the Annapolis area, I would love the opportunity to be of service to you. It's my honor if you'll consider me your real estate professional resource for any questions you may have.
If you have any questions, please contact me. It would be my honor to help!

In case you missed it! Click here to watch now!