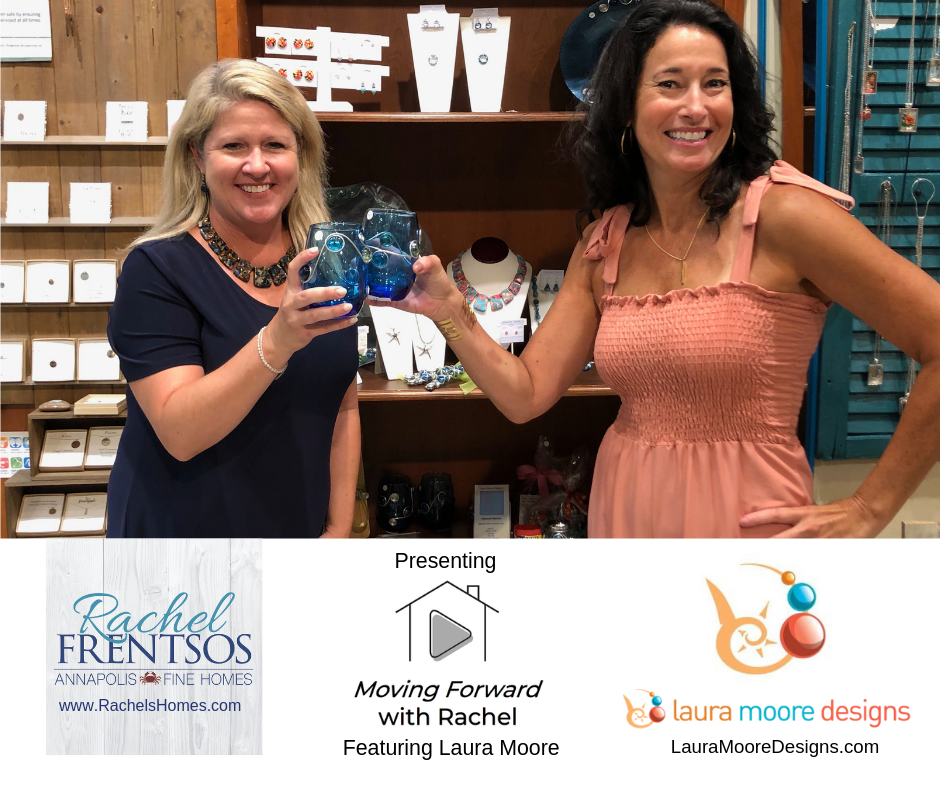 Rachel Frentsos: Hi, Everyone! This is Rachel Frentsos with the Annapolis Fine Homes office of Long & Foster. And, this is Moving Forward with Rachel. Today I'm at the Annapolis Mall in Local by Design and this is my guest, Laura Moore. Laura, can you tell us a little bit more about this amazing store you have here?

Laura Moore: Yes, Local by Design is a collaboration of over 70 Maryland artists and we all have a shared space here in the Mall. Also, a location Downtown. I'm one of the artists and this is my area. I make handmade jewelry with natural gemstones and I also have a line of wire wrapped home accents, like this stemless wine glass.

Rachel Frentsos: So, this place is amazing to come in and shop for gifts, whether it's a birthday, a house warming, or Christmas. It's an amazing store. You have to stop by! Laura, tell me, what is your favorite piece that you've created?

Laura Moore: I really like this. This is my best seller. They're Swarovski crystals and the bail is hand made using chain maille. It comes on a 22 inch adjustable sterling chain, which everyone loves because you can make it drop anywhere you want on your neckline.

Rachel Frentsos: It's beautiful! And, I hear you have a celebrity who wears your jewelry. Tell us a little more about that!

Laura Moore: I do. Mrs. Hogan is one of my good clients. She actually appeared on a magazine cover wearing a piece of mine, so I contacted her. I didn't know that she had the piece. She invited me to the Government House for tea. Now we've become friends. She really is a big supporter of mine. So, that's really exciting!

Rachel Frentsos: That's super impressive! Laura, thank you so much for joining us. And, come by. You have to come check out Local by Design. We'll see you next month! Bye!