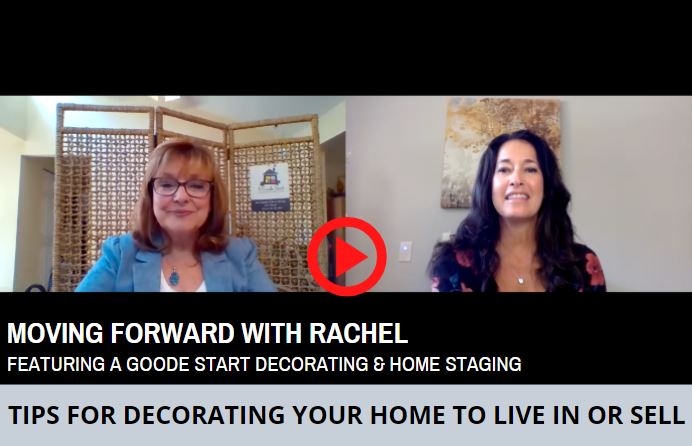 CLICK HERE to watch now!
Hey, everyone! It's Rachel Frentsos with the Annapolis Fine Homes office of Long & Foster. This is Moving Forward with Rachel.
Today I have Deborah Goode from A Goode Start Decorating and Home Staging. Did I say that correctly?
Deborah: That's good enough!
Rachel: Perfect! I know we just talked about it! Thank you so much for joining me. I really appreciate it.
I just wanted to thank you because you staged a home that I just sold. It was definitely a unique property. Having the furniture in there really helped with the buyers and having them envision how they would be living there. Thank you again for that! That was fantastic!
Tell me a little bit about how you got started in staging. What motivated you?
Deborah: First of all, thank you so much because I really did enjoy working for you.
Transforming Houses through Staging
I love transforming houses into a property that somebody can envision themselves living in. It's a challenge! I love challenges!
I love working with you and with others to help their houses sell…faster and quicker for more money!
I got in to this because it was a lifelong dream. I had to put it on hold because of family issues. I did pursue it about 30 years ago as an interior decorator in a furniture store. But, that didn't last long! So, I went back to the government and finished my career there.
When I decided that I was going to retire, I also decided that I was going to start my own business. So, that was 12 years ago. I got accredited in staging and decorating. I've moved on from there.
I have a lot of inventory of furniture and accessories, as Rachel knows, to go into vacant homes and transform them so they'll sell faster.
Staging and Decorating
Rachel: Do you also work with people who have just moved into a home and want to redecorate and offer people who are living in homes that service as well?
Deborah: Yes, we do consultations as well. I also have an interior designer on my staff. If they want something a little more involved, she can do that. We try to be a full-service business here!
Rachel: Exactly! I know for myself, I love looking at homes, but I lack that creativity. So, it's good to have someone to call to get some help!
Popular Decorating Ideas
So, tell me, what are some popular decorating ideas these days?
Deborah: Well, the grays are still very popular. And, blues are definitely popular. Blue was the color of the year last year. It is really resonating still in decorating with a lot of blues.
Also, mixed metals. Not just gold, but we still have the silver. We mix metals as decorators.
I also see in kitchen designs that the trend is now more popular colors in kitchen cabinets, which is very surprising. I love the blue cabinets. People are doing two tones, one color on the top and another color on the bottom. I think that there is a lot of creativity going on in design now.
Rachel: Now, would you recommend to someone who is considering selling in the near future to get overly creative or stay somewhat neutral?
Deborah: I would advise them to stay neutral. It's very taste specific. A lot of people don't have the same taste. When you're staging your house, you have to neutralize it so that more people will like it.
Rachel: Thanks for that! You said that you've been in Annapolis for a while. What are some of your favorite places to go or restaurants to go to?
Deborah: I love living in Annapolis! I've been here since 1985. I raised my son here. I love the water! I love sitting by the water and eating…breakfast, lunch dinner…it doesn't matter! I love walking by the water. I think that's the appeal to Annapolis. That's why we moved here, was to be near the water. That still resonates with me!
Rachel: To your point, I think the blue works so well with the water theme. Maybe that's why people are drawn to it.
Well, thank you so much! I really appreciate you coming on here and spending a few minutes with me. I'll be in touch soon!
If any of you have any staging questions or decorating questions, please feel free to reach out to Deborah at A Good Start Decorating & Home Staging. She is fantastic!
Rachel: Thanks again!
Deborah: Thanks so much! I appreciate it!
Rachel: Bye!