Annapolis offers a variety of wonderful boutiques that sell everything from athletic wear, tea, cooking oils, clothing, books, fudge and souvenirs. One shop that you should be sure to visit is Local By Design, which is owned and operated by local Annapolis residents and offers products produced by local Annapolis artists too.
Owners Suzi Jett and Susan Sears designed a plan that helps small businesses showcase and sell their creations in Downtown Annapolis at an affordable price!  Local by Design showcases furniture, art, jewelry, home décor, apparel, gifts, accessories and so much more. With their proven skills, along with a savvy professional selling team, they will provide you with a unique shopping experience every time you stop in!
Suzi, the creator of Gallery 3976 (now called Local by Design at the Gallery) located in the Annapolis Design District, has already successfully proven her shared space concept by having 13 small businesses coexist in a 3,500sf working studio space. Susan has worked in the retail industry for over 20 years and has an extensive background in selling and merchandising products. Now they are combining their skills and passion for supporting small local businesses and taking it to the prime retail district of Annapolis.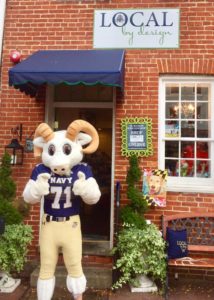 On April 2 they are opening their 3rd location at Westfield Annapolis Mall. This new space will be a retail shopping experience that includes a gorgeous space where they will hold a variety of classes. They will also house the only full service embroidery location in the mall too.
Don't miss the Annapolis Artisans Market on the last weekend of every month at Local by Design at the Gallery located at 1818 Margaret Avenue.
Local by Design is always looking for new artists and artisans! Email them at suzi@localbydesignannapolis or susan@localbydesignannapolis.com.
Here are a list of their locations:
Local by Design Downtown – 109 Main St, Annapolis
Local by Design Annapolis – Westfield Annapolis Mall
Local by Design at the Gallery – 1818 Margaret Avenue, Annapolis
Whether you are looking for the perfect furniture to fill your new home, or staging your home to sell, Local by Design has everything you need in one place. Honestly, just stop by and I guarantee you will find something you can't live without. As always, please contact me if you have any questions about life in Annapolis, including shopping, events and restaurants. I'm here to help!