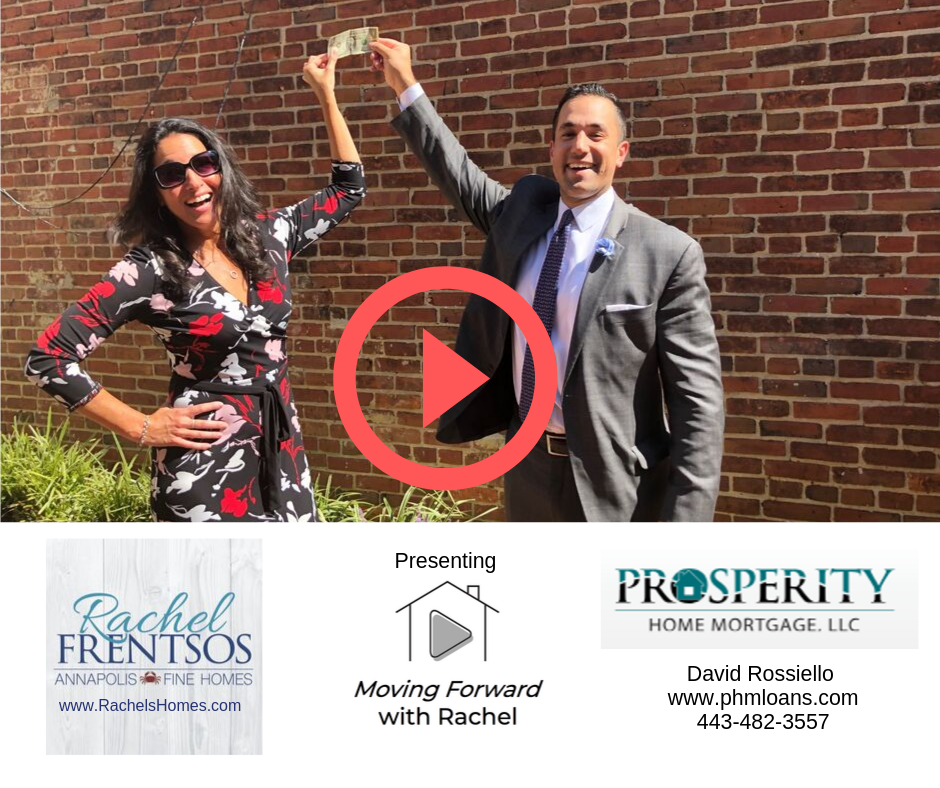 Click here to watch Moving Forward with Rachel now!
Rachel Frentsos: Hi everyone! This is Rachel Frentsos with the Annapolis Fine Homes office of Long & Foster. This is Moving Forward with Rachel. Today I have the pleasure of speaking with David Rossiello. He is our in-house lender with Prosperity Mortgage. And, he's a lot of fun to hang around with! If you've never hung around him, you need to hang around this dude.

So,David, tell us a little about yourself and how you got started in this business.

David's Background
David Rossiello: I started in the business when I graduated from Towson University in 2009. And, I've been in the mortgage business for about 10 years. I started working at Wells Fargo. During the timeframe when I graduated, it was 2009. So, 2009 was during the financial meltdown that was happening.  Primarily, I was focused on refinances. I was doing a ton of refinances. I actually made it to the Top 100 out of all of the Wells Fargo employees. There were, I think, about 9,000 at the time.

I came over here to Long & Foster because I felt like there was a change coming. That market was now shifting. Refinances are great. For people who are already in the house and wanting to refinance, that's fantastic. But, working with first-time homebuyers, repeat homebuyers, really gives so much more of an experience, of an actual connection, than just a transaction, which a refinance is.

Getting Pre-Approved
Rachel Frentsos: I know why it's important for someone to have a pre-approval. Tell us in your words why it's super important to speak to you, even before they go see houses.

David Rossiello: Not just a pre-approval, but a pre-approval from a local lender. So, there are lots of things that come in to a pre-approval, rather than just the paper that it's printed on. That's the expertise of that loan officer. Are you really pre-approved? Are you pre-approved for the best product?

Right now, I actually met with clients that were Rachel's that we actually did a loan for. They actually only had to bring $1500 to the table because we put them in a different product than another credit union did.

It's not just "What's your credit score?" or "How much money do you make?" And, let's put you in a little box. It's important to work with a local lender that knows all of the amenities and all of the first-time homebuyer programs. Work with someone who will look up the county taxes to make sure the property taxes are correct. This way, when you go to the settlement table, you're not off on the settlement.

Cash to Close
I had a settlement that happened with an attorney. The attorney said the settlement buyer had a difference of $2800 from what they were told, to what they actually had to bring to the table. Now the clients were able to make that work. But , if you had to bring an extra $2800 to the table, does that should like an enjoyable experience at the very end?

Rachel: No.

David: I would say the one thing I really pride myself on is the difference in my loan estimate. And, that's vernacular from TRID. Compared to that final closing disclosure. That final CD. And my variance is usually only off by a few hundred dollars. Just because I pride myself on trying to foresee every single bill that you may have at the settlement table, estimating that up front. This way you know for sure what your cash to close is going to be.

Rachel: That's very true. In fact, we just had a settlement last week and David got a rating of 5 out of 5 stars. So, that was amazing. They were very, very happy with your service.

David: That was a high-balance government loan. So it was an FHA loan. We closed that in 15 days, 15 days. That was a sought-after property. And there were multiple offer situations. So, to be able to offer to some sellers a faster turn time, that really can be the difference between getting the house and not getting the house.

Interest Rates
Rachel: Real quick, tell us what interest rates are going to be doing.

David: Great question! Every single time the President tweets, who knows what's going to happen. Especially now this whole thing with Ukraine is going to leave a little bit of instability in the market. The Federal Reserve did say a few weeks ago that there was going to be a 25 basis point drop. That actually increased interest rates, because weeks prior to, people were actually hoping for a 50-75 basis point rate drop.

When you hear the fed cuts rates again, or more than likely will cut rates, just know that the market is planning on other moves. People are hedging and betting on other movements in the market. So, when they cut it by 25 basis points, when it was actually supposed to be cut for more than what they assumed, it actually causes a little bit of a tick up to rate. But, today I quoted 3.5% on a 30-year fixed for an FHA, 3.75% on a conventional loan.

Rates are really, really good, especially if you mix that with a low down payment option, or a no money down payment option, or if you're looking at USDA or Maryland mortgage program, or things along those lines.

It's important to know to get a pre-approval upfront so you know exactly what your cash to close is going to be, to know exactly what your payment is. But it's really important to buoy yourself with a very, very strong real estate agent that's going to make sure that you're shopping for houses within your price range. This way, when you end up getting a pre-approval, getting an estimate, then you can end up using your Saturday and Sunday looking at houses. The houses you're looking at are actually houses that you can afford. 
First Mover Advantage
That's where Rachel and I come in. Together, working as a team, because this way on that Saturday/Sunday when that house just hit the market Rachel can say "Hey, do you want to write an offer?" "Oh, I don't know what my cash to close is?" "I don't know what my payment's going to be." Let me call David. She gives me a call. I'm able to get those numbers right back over to her. You're able to put in a contract over the weekend. Other people that are seeing the house are waiting for credit unions, big banks and stuff like that to get back to them Monday, Tuesday.

Guess what? Rachel has first mover advantage. You have first mover advantage to say what's going on with my offer? Before it becomes a multiple offer situation, you can be the first one in if you love that house. That's the reason why we work so well together.

Rachel: Yes! David is amazing! If you're thinking about refinancing or purchasing, give me a call or give David a call. We will be happy to help you!
If you have any questions for David or myself, please contact me. I'd be happy to help you find the information you need to take the next step.
See you next month!