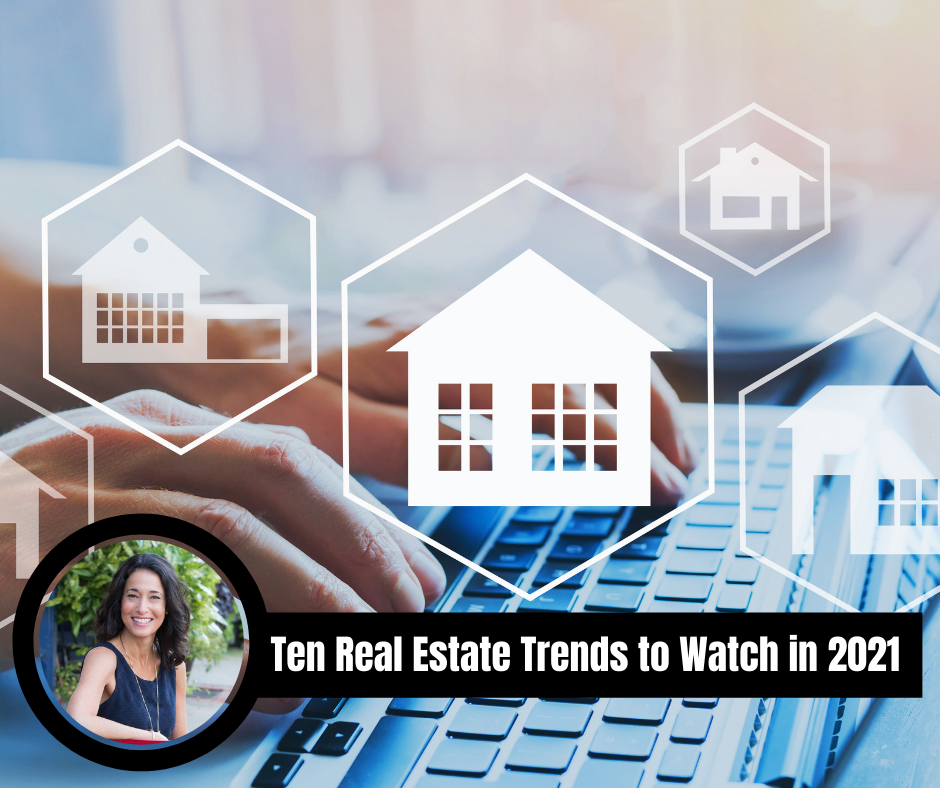 I wanted to share this article with you, which was written by the executives at Long & Foster. As you know, despite the pandemic, the 2020 real estate market was unprecedented. The experts are predicting that the market will remain strong in 2021, based on the following factors:
Ten Real Estate Trends to Watch in 2021
While 2020 has been an incredibly challenging year across all markets, housing turned out as a bright spot. Despite the impact of the coronavirus pandemic, homeownership rates rose to 67.4% in the third quarter of 2020, up from 64.8% in the same period in 2019.
"Homeownership rates are climbing close to their all-time high of 69% and with demand as strong as it is now, I wouldn't be surprised if we reach a new record high by early 2021, if not sooner," says Larry "Boomer" Foster, president of Long & Foster Real Estate. "But we're not at risk of a bubble because homeowners have plenty of equity and the regulatory environment has changed. Borrowers who are approved for a loan today have the ability to repay it."
The fundamentals are in place for a continued strong housing market in 2021, particularly with expectations that mortgage rates will remain around 3% throughout the year.
"The housing market has seen an incredible V-shaped recovery—it's probably one of best sectors in the economy other than Zoom," says Gary Scott, president of Long & Foster Real Estate. "There's a trickle-down effect of buying a home that has a significant impact on the economy, too. People tend to acquire more things after a home purchase."
Typically, a strong housing market is closely tied to higher levels of consumer confidence. Yet, in 2020, consumer confidence remained weak, a natural reaction to the pandemic, economic shutdown and political turmoil.
"In 2020, lower interest rates overcame all objections, including low consumer confidence," says Foster. "As the economy strengthens in 2021, we're likely to see consumer confidence rise and housing demand increase even higher."
10 real estate predictions for 2021
Both Foster and Scott are optimistic about the housing market in 2021 and shared their predictions for the year ahead.
1. Home prices will rise.
The law of supply and demand will drive prices higher, with double-digit percentage increases possible as more buyers shop for fewer homes. That rate of appreciation likely is not sustainable because wages can't keep pace with rising prices, and on average for the year, Foster and Scott expect home values will rise by 5% to 6%.
2. Affordability will remain mostly positive.
Low mortgage rates have offset rising prices and increased the number of households who can afford to buy a home, says Scott. Nationwide, the National Association of Realtors' Housing Affordability Index was 160 in the third quarter of 2020, which compares the median income with the median sales price. An index of 160 means that median household income is about 60% more than is needed to afford a median-priced home, says Foster. In some housing markets, however, the affordability index is lower.
3. Inventory challenges will continue.
While builders are expected to construct homes at a faster pace in 2021, there's still a gap between demand and supply for both new and existing homes. "Inventory remains the most significant headwind to the housing market," says Scott. "There's just no secret sauce to solve the problem."
4. Millennials and boomers will move the market.
Millions of millennials intend to buy homes in the coming years, driving robust activity in the housing market, says Foster. While boomers have been moving at a slower than expected pace, that may pick up in the next few years and could increase the availability of homes for sale.
5. Increased teleworking will influence housing preferences.
Foster and Scott expect more people will continue to work from home next year, which impacts their housing choices and locations. "Employers recognize that their teams can be productive at home, so more people will work from home permanently," says Foster. "Even if people go into the office occasionally, they'll still need a home office and likely want a home gym, too."
6. Lower density will continue to attract demand.
As a corollary to the work-from-home trend, demand has risen in suburban and even rural locations where buyers, now without the constraint of commuting, can often find more space for less money. "Early on, Charlottesville and Williamsburg were among the hottest markets in Virginia," says Scott. "The flight from density happened fast."
7. Vacation home markets will stay hot.
Homeowners with rising equity and investors with unexpectedly high stock market profits drove a spike in demand for homes in resort areas in 2020, says Foster. He anticipates that to continue. Scott says Long & Foster saw sales increase rapidly in coastal markets from North Carolina to New Jersey for both primary homes and second homes.
8. Higher savings could increase demand.
In this uneven economic recovery, employed people have significantly increased their savings, in part because they're not spending as much on commuting, dining and entertainment. Those savings could be directed into the housing market in 2021, says Foster, as investors look to diversify their portfolios.
9. Forbearance and foreclosures are unlikely to harm the market.
While high unemployment due to the pandemic has millions of homeowners currently in forbearance on their mortgages, neither Scott nor Foster anticipate a foreclosure crisis in the coming year. "Less than 2% of homeowners have negative equity, so it's more likely that people who can't pay their mortgage will sell their house and gain a profit from it rather than go into foreclosure," says Scott.
10. Technology remains critical.
Virtual tours, remote closings and video conferencing kept real estate transactions moving even with social distancing in effect. "Virtual buying and selling will lead the way in 2021, but we need to be cautious not to let technology override our personal relationships," says Scott. "We all need to be creative and consistent and rely on the art of communication to connect."
Whether you're looking to buy, sell or invest in real estate in 2021, I can help. Please contact me to discuss your options. I look forward to working with you to make your real estate goals a reality in 2021 and beyond!

Source: Long & Foster Newsroom