A home sale isn't just a matter of transferring the money and title between the buyer and seller. It's a complex legal transaction, and as such can only happen with a thick folder of official documents and signatures (digitally or on paper).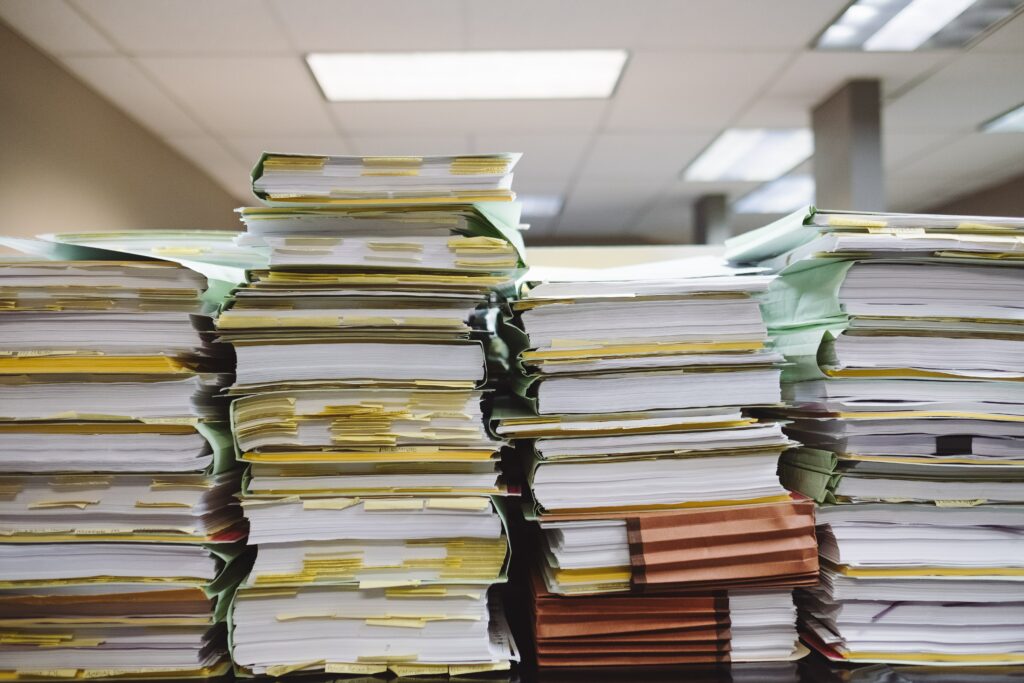 Okay, not quite as much paperwork as the photo above! As we go through the steps to sell your home, we will likely need to put together the following:
Pay-Off Information. When selling your home, you'll need to provide your lender's address, the loan balance, whether the loan is assumable, years remaining on the present mortgage, PITI (Principal, Interest, Taxes & Insurance) and interest rate.
Well and Septic Inspection. If your property has a septic system and/or well, current inspections by local health authorities may be required. I usually arrange for the inspection after a contract is ratified.
Lender Appraisal. Lenders require an appraisal to ensure that the property is adequate collateral for a loan, and they will order an appraisal through an approved vendor after a contract is ratified.
Assessments/Easements. I may ask if any tax assessments or easements exist on the property that must be paid or included in the purchase contract and passed on with the land when sold.
Property Taxes and Homeowners'/Condo Association Fees. You should provide a record of property tax special assessments and HOA or condominium fees.
Inspections. Most new mortgage lenders require a termite/wood-destroying insect inspection certificate that shows the house is free of infestation. The contract will establish who orders and pays for the inspection. You can also provide any home inspection reports from when you purchased the property.
Utilities. You should provide a record of the utility bills including gas, electric, sewer, water and trash.
Additional documents. Sometimes I also need copies of the deed, house location, condo by-laws or HOA documents, subdivision map, previous title search abstracts, legal description of property (subdivision, section, lot), home warranties on major systems, and a copy of the homeowners insurance policy.
For more information on the home selling process, pricing your home, and local markets, contact me today.