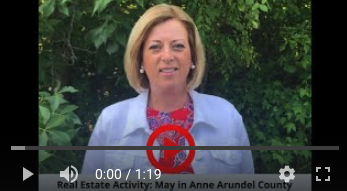 I'm Kristin Mrotek with the Annapolis Fine Homes office of Long & Foster. I hope this message continues to find you and your family well. I'm coming to you today with a quick update on the local real estate market.
The numbers indicate that real estate in Anne Arundel County is selling. For example, during the second half of May, from the 15th to the 28th, there were 508 new listings that come on the market. In addition, there were 569 properties that went under contract, and 285 settlements.*
Here's an interesting number! During the month of April, the average length of time that a home stayed on the market decreased by 11 days. That means it sold 11 days faster than it had in March. Just think about that! During the month of April when we were under stay-at-home orders, we saw a 38.9% decrease in the amount of time that properties remained on the market.
So, as businesses reopen and consumer confidence continues to increase, more people will be back in the market buying and selling.
I'd love to be your trusted real estate advisor. If you have questions about buying or selling during this time, please give me a call.
I look forward to working with you! And, I hope to see you soon!
Take care!
*Information gathered from Bright MLS and deemed reliable but not guaranteed.