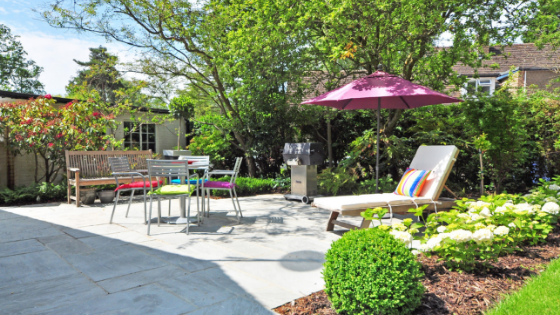 Preparing your home for summer includes everything from the inside out, from top to bottom, and from the front to the back. Living in the Annapolis area where we experience all kinds of weather, it's important to prepare your home for the differences that each season brings.
Inside
First, start by cleaning and packing away heavy blankets and curtains and replacing them with lighter, brighter fabrics for summer. Next, add a few house plants or herbs to bring nature and greenery indoors. Another often overlooked tip is to empty and defrost your refrigerator and freezer. This is a great time to toss any old or expired items to make room for burgers and popsicles for all those cookouts!
Outside
Now, have your air conditioner serviced before the temperatures hit the triple digits. Also, change the direction of your ceiling fans by turning them counter-clockwise. Since heat rises, this pushes the hot air downward, causing it to circulate more. Finally, wash the windows and check the screens, repairing or replacing any with holes or tears.
From Top to Bottom
In the Annapolis area, summer can bring strong thunderstorms and even hurricanes. Take the time now to inspect the roof, gutters and downspouts. Trim any overgrown trees away from the house to help prevent breakage and damage later. Next, look around for any standing water that's a breading ground for insects. Finally, seal any openings to help prevent pests from getting in! 
From Front to Back
Now, create an inviting entrance by sweeping the walkway, tidying up the yard and cleaning the front door.  Add a new plant, chair or cushions for a fresh pop of color to welcome your guests this summer. Working your way towards the back yard, check the lawnmower, hose and sprinkler to make sure everything is in working order. Then repair any loose deck boards or fence posts. Finally, clean the grill and you're ready for this season's first cookout! 
With all of these steps complete, you'll be able to relax on your back porch or beside your fire pit knowing that you're prepared!
Please contact me  if you need any advice or referrals for getting your home ready for summer.