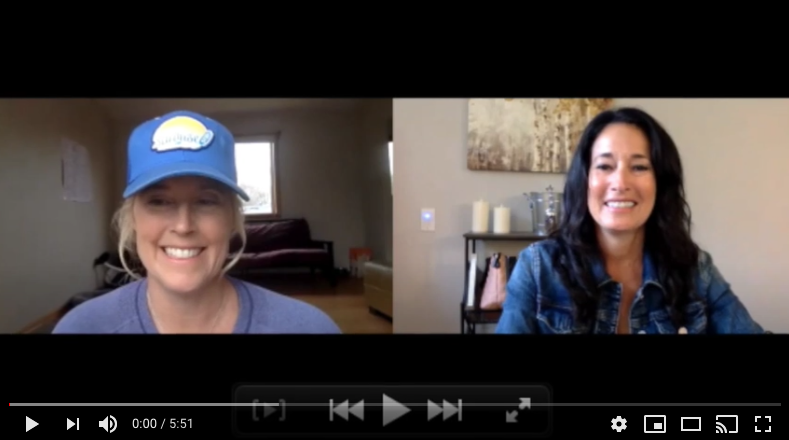 Hi Everyone! This is Rachel Frentsos with the Annapolis Fine Homes office of Long & Foster. I hope this video finds you healthy, and safe, and doing well.
Since I can't do the "Moving Forward with Rachel" interviews right now because of social distancing, I thought I would circle back with all of my people who were so gracious to be part of my video series last year and the beginning of this year.
With me is Kate Grove with YogaVibez out of Edgewater. Hey, Kate!
Kate Grove: Hi, Rachel! Hi, everybody!
Rachel: Kate was actually the very first person we had in our "Moving Forward" videos. I'm so grateful for that! Thank you so much! That was over a year ago!
Rachel: How are you doing right now, Kate? How's life?
Family Dinners, Playing Cards & Going for Walks
Kate: Me, my family, we're doing well! Everybody is stir crazy, but we're fortunate that we can get outside when the weather is good. We have a lot of family time. We're still doing all of our family dinners together. We're playing a lot of cards and games, and just going for a lot of walks.
Rachel: Luckily (except for today), we've had really good weather, which is great.
Since you can't have classes, what are you doing right now to accommodate people, or to pivot your business, during this time?
Facebook Live & Zoom Classes
Kate: Thanks for asking! When we shut down the studio for in-studio classes, we've done two things. Initially, we went to Facebook Live because it was the easiest thing to do and it was free to our members. That was a great short-term solution.
Now that we're in this situation of not knowing how long this is going to be, we've gone to Zoom classes. We're offering both. We're offering Facebook Live for free and Zoom classes for $5.
Rachel: That's great! It's great that you're still able to do that. Are you able to get a lot of people on?
Kate: We are! One of our most popular classes is Hip Hop Yoga, which Lindsay teaches, and she had like 50 people on her Zoom class.
Rachel: When does she teach that?
Kate: That's a specialty class, so she taught that a week ago Friday.
Rachel: That sounds like a lot of fun! And, in this time, everyone just needs to boogie a little bit. So, that sounds great!
Kate: Gotta shake it out a little bit! Yeah! It was great! It was a lot of fun!
Rachel: Well, I'm definitely going to look for it next time!
Tell we, what are your clients doing to stay healthy during this time? Besides joining your classes? Are there any things people are doing? Any advice you can give for those of us who are all home? What can we do to keep up the momentum of staying healthy?
Meditation
Kate: There are a couple things that we are offering and one of them is meditation.
It seems like we're always looking for something to DO, but sometimes it's better to just BE. ~ Kate Grove
Kate: Just sit in meditation. We've been posting a couple of suggestions online and via our Instagram. Things that people can do for 2 minutes, 3 minutes, 5 minutes, just to slow down and take time for themselves. To balance out what's going on all around us.
Live Cooking Classes!
The other thing is, we're offering cooking classes. Once a week, we're doing free, live cooking classes.
Rachel: Oh, neat! What are some of the dishes that you've had?
Kate: One week was like an orzo dish. Then this week, I can't remember, but I'll look it up and let you know.
Rachel: That's great! So, you're going to send me details on how to join your yoga classes on Zoom and Facebook.
Everybody, Kate is amazing! All of her yogis are amazing!
Paddle Boarding Season
Really quickly, what about your paddle boarding season? Do you think this will be affected at all? What are you doing with that?
Kate: So, right now, we are in a waiting process about when we're going to officially open in the sense that we can be out on the water.
Technically, we are open for any used or new board purchases. Because I can deliver those directly to people's homes if they're interested.
If they have access to the water, and can get on the water, and it's something they've been thinking about. We've actually been really busy over the last week and a half, selling boards.
Rachel: That's obviously something we can do now, once the weather gets a little warmer. We can get out on the water and paddle board. That's something we can do while we're in quarantine, at this point.
Kate: Yes, paddle boarding and kayaking are allowed under quarantine.
Rachel: That's good to hear.
I really appreciate you taking the time! I know you have a house full of kids and things to do! Thank you so much for taking the time today to chat with me. I will definitely see you on the other side of this in person. Continue to stay healthy and well!
Kate: See you soon, Rachel. Take care!
Rachel: Bye!
Thanks for watching!