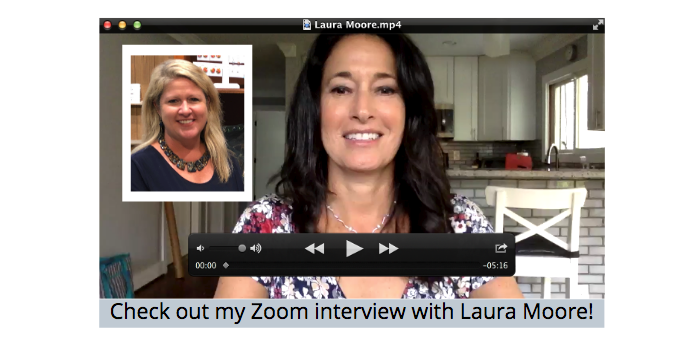 Hey, everyone! It's Rachel Frentsos with the Annapolis Fine Homes office of Long & Foster. This is part of the series Moving Forward with Rachel. I am having reunions with all of my guests who were so gracious to join me in the last year and a half in my monthly series. Because of the current times, I can't do any more Moving Forward with Rachel's so I thought I would reunite with the people who were so nice to be interviewed in the last year. Today, I have Laura Moore with Laura Moore Designs. Hey, Laura!
Laura: Hi!
Rachel: How are you holding up now?
Laura: OK! Yesterday was a fun day for Easter and everything.
Rachel: Yeah! We had beautiful weather, unlike today! How are the kids? Are they staying sane or keeping you sane?
Laura: I think they're a little bored, but when the weather is nice we can at least get them outside.
Pivoting to Online Business
Rachel: Right! Exactly! So, tell me a little bit about how you are pivoting in your business right now since the climate has changed?
Laura: It's changed drastically because all of my events all the way through June now have been cancelled. And, the Local by Design stores are all closed. I also work downtown, so I'm not able to work in the store. So, pretty much everything has gotten moved online.
Luckily, before all of this happened, I had put in a good amount of effort setting up my web site. And, I have an Amazon handmade seller account and an Etsy shop. So, I have all that going.
The Etsy community has been pretty supportive. The CEO there is really lobbying for artists and people have started doing virtual, online shows. I just got an application for one this morning. The owners of the Sea Glass Festival in St. Michael's. That was cancelled. They're going to do a virtual show and put all of the artists' booths online and keep it up there through the end of 2020.
Rachel: That's fantastic!
Laura: Also, I had taken a class on social media to learn how to run Facebook ads. That has been going really good, too.
Rachel: Oh, good! I might have to pick your brain about that.
Maryland Flag Jewelry
Laura: The algorithm used to be a lot more complicated and they changed it. For my Maryland flag pieces, I can target women in Maryland. So, it's pretty easy now.
Rachel: Tell us a little more about those pieces because I noticed those online as well. Especially now, it's great to have something that you can rally around. So, can you tell us what was the inspiration for those?
Laura: The owner of Local by Design had actually asked me to make some Maryland flag jewelry because people were requesting it. And, there wasn't anything out there that was really very attractive. So, I have the necklace with the pendant, and earrings, and I make a charm bracelet with a sail boat and a Maryland crab. People love it!
They were loving it before, but now I hashtagged #marylandstrong and #marylandunites. I think everybody is really proud of the work Governor Hogan is doing and really proud to be a Marylander right now.
Rachel: Exactly!
Laura: And, right now, even though people might not be able to go out and look nice, on your walks or whatever. Every once in a while, people might put on makeup to make yourself feel better.
Rachel: Like today, to be with you, I put on a dress! And, I have one of my favorite pieces of yours on as well, this starfish. Are you still making these?
Laura: Yes!
Rachel: I love this! It just reminds me of summer! And, hopefully we'll all be out enjoying the summer. Fingers crossed!
Getting Creative with Marketing
So, tell me, are you using your creativity to get through this time? Or, what are you doing to help you get through this time?
Laura: The creativity is really coming in to play with the marketing. That's the main thing.
There's a site called "Pay It Forward Annapolis" and we did a promo on Local by Design where you go to the Local by Design web site and pick out your favorite thing. And then we would give it away to somebody. So, that was super fun! I did that on Friday. Three people said they liked this Maryland flag jewelry, so I surprised them and gave it to all of them!
Rachel: That was really nice! I mean people can use something that makes them happy at this time, for sure!
Laura: It was really fun! And then I did one on my web site for wine glasses for Easter and I gave that away and "porch-dropped" it on Saturday. So, the lady that won those photographed it and put it on her social media. She was super excited as well!
Rachel: Can you order online for Local by Design as well?
Laura: Yes!
Rachel: So, everyone cal still order everything and all of the artists are still creating their items?
Laura: Yes!
Rachel: That's so awesome! Well, I thank you so much! Is there anything else you want to share? I will definitely share your web site. Any new pieces you have just let me know and we'll get it shared with everyone.
Laura: Ok! Sounds good!
Rachel: Thank you so much! Stay healthy and well! I hope to see you in person, either in the store, or on the water, or somewhere when this is all over. Thanks, Laura!
Laura: Thank you!