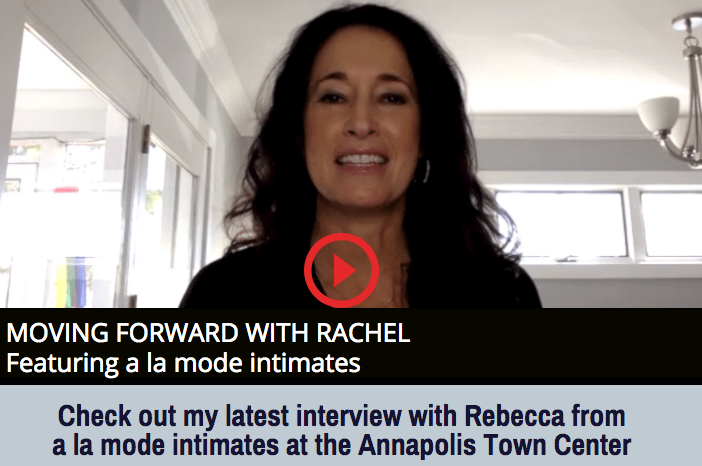 Hey, everyone! It's Rachel Frentsos with the Annapolis Fine Homes office of Long & Foster. This is Moving Forward with Rachel. Today, I have Rebecca from a la mode Intimates. Thank you so much for joining me! I really appreciate it!
Rebecca: Thank you so much for having me!
Rachel: I've actually been stalking you a little bit, online and in the store! I'm in a lot of moms groups on Facebook. Whenever one of the moms posts about where to get good bras or intimate wear, your store is always mentioned. So, I was intrigued and wanted to learn more. Let's start with how you got started in this business and give us a little bit of history about it.
Rebecca: a la mode intimates was founded in 2002 by a couple of friends who were retiring. I joined the team almost 15 years ago. I realized that there was so much to be learned about bras. It's one of those things that women take for granted, but you wear it every day. So, if it's not comfortable, there's a better answer.
Since then, we really focus on helping women find the right solution for their lifestyle, their body type, and their preferences. We have hundreds of different bra sizes. We've tried lots of different brands.
Rachel: You think of it as another piece of clothing, but when you buy it, so many of them are uncomfortable. I was just mentioning, too, (this is kind of personal, but) I've been wearing a sports bra all through the pandemic because it's just what is most comfortable. But, it's not the most practical when you're trying to get dressed up and things like that. What do you do differently to help women out with those choices?
Rebecca: Absolutely! Most places will offer 15-20 common sizes, from 2-3 different brands, that are all pretty much the same brand. If you're not that mainstream body type, if you don't fit that exactly, or if you want something a little bit different, then there aren't any choices for you.
Fo us, we carry over 100 different bra sizes. We have about 40 different brands of bras. Each one of them is specialized to a particular proportion or body type, or has special features.
Maybe you're very narrow in the shoulders and your straps always fall off. There's a bra for that!
Maybe you don't want to wear wires! There's a bra for that! We have all different types. We really get to know our customers and their preferences and match them to the bra that's right for them. So, there's a lot more choices!
The other piece is that we also want to make sure it's beautiful and pretty, and makes you feel pretty. Just because you have a large cup size, or a large band size, or a small cup size, you're not limited to beige and black and boring! We've got so many beautiful things for everyone.
Rachel: It looks like in addition to bras, you sell other things. What else do you sell there?
Rebecca: We have all sorts of fine intimate apparel. We have lingerie from different European brands, with beautiful embroidery and silks. We also have some functional basics, your everyday panties, some shape wear. We have a good variety of things. Anything that you've struggled with, we try to have a solution for.
Rachel: How long have you been in Annapolis? You said you've been with the store for 15 years. Did you grow up in Annapolis?
Rebecca: I'm a West Coast transplant. I moved here after college. Annapolis is just such a charming place. It's just such a nice intersection of being able to go in to DC or go in to Baltimore, but also have that beautiful, cozy small town feel that Annapolis has.
Rachel: Speaking to that, what are some of your favorite things? Besides your store, which is amazing, what are some other places you like to go to shop?
Rebecca: I always find myself downtown spying on Lilac Bijoux. I love all the little jewelry and her apparel. She has just such a cute style, so I'm for new things from there.
I do find myself here at the Annapolis Town Center at some of the other local businesses like Scout & Molly's just down the way.
Rachel: The little boutiques are so much fun, like yours!
Rachel: I heard that you've been recognized a lot and given a lot of awards. Can you tell us a little bit about those?
Rebecca: We have been the recipient of the "Best of Intimate" award. It's an international consortium that comes together to award the best and brightest lingerie shops in the Americas and Canada. We were nominated multiple times, but also won for "European Flair". It's a really big honor. There are only about 5 in the county that are honored in this way.
Rachel: That's amazing! Congratulations!
I want to thank you again for coming on! And, if you haven't been to a la mode intimates, make sure you get there! I'm going to get there in the next few weeks, because, like I said, I need some variety here with my wardrobe!
I really appreciate you for being here, Rebecca! Thank you so much! We'll see you soon!
Rebecca: Sure thing! See you soon!
I hope you enjoyed this month's episode of Moving Forward with Rachel!