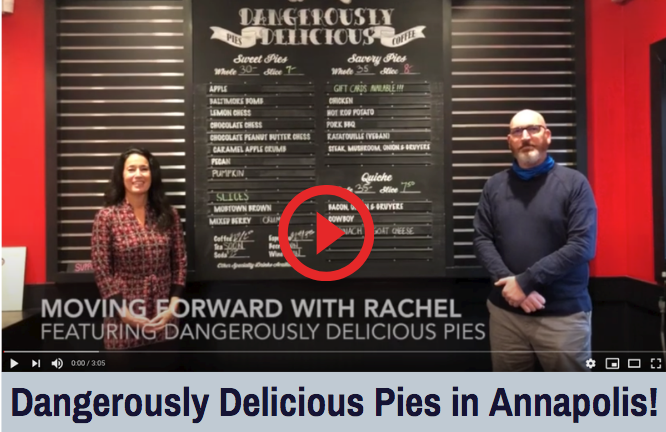 Hi, everyone! This is Rachel Frentsos with the Annapolis Fine Homes office of Long & Foster. This is Moving Forward with Rachel.
Today I'm in a place that smells amazing! I'm with Christopher Miller and he and his wife own Dangerously Delicious Pies. How are you doing, Christopher?
Chris: Great! Thanks for coming over!
Rachel: Thank you so much for having me! Tell us a little bit about how you got started in this business?
Chris: I was working in the music industry for about 20 years and I knew the founder, Rodney Henry, of Dangerously Delicious Pies. I met him about 20 years ago when he founded the pie shop in Baltimore. In 2015, we decided that this was something we wanted to do, and Annapolis seemed like the perfect location.
Rachel: Are you from Annapolis?
Chris: We lived in Annapolis, but we moved across the bridge into Queen Anne's County.
Rachel: It's nice over there!
Chris: It is nice!
Rachel: Tell us a little bit about how your business works and some of your most popular pies.
Chris: We sell pies! Sweet pies, savory pies and quiches, whole or by the slice. We have a lot of the standard, familiar pies, like apple. We also have some creative sweet and savory pies, like the Baltimore Bomb is very popular! It's vanilla custard with Berger cookies that are melted down and crumbled in to it.
As far as savory pies, the Steak, Mushroom, Onion, Gruyere and the Chicken pies are very popular. And, the quiches do well. We have quite a variety of flavors for every taste!
Rachel: Now with COVID, Anne Arundel County has recently closed down dining again. What adjustments have you had to make to keep your business going?
Chris: We have been working on the buildout and planning to open during all of 2020. Over the summer, we made the conscious decision not to get furniture, because we figured that we would have to start as carryout or delivery. So, we've been doing fine with the carryout.
We're looking forward to having dine-in in 2021, but we made the decision months ago to just do carryout.
Rachel: If people want to order or get it delivered, where can they go? What do they need to do?
Chris: For now, it's carryout only until we get through the holidays. (We're working on delivery.) They can order at www.dangerouspiesannapolis.com/order
Rachel: We will also post it with this video. We'll put it on the video to make sure people can get to it.
I'm telling you, it smells amazing in here, so get on the website and order some pies!
We'll see you soon!
Thank you!