Hello friends!
Open Houses are such fun – admiring the kitchen and imagining yourself relaxing in the living room are part of the home buying process!
You may have many questions when attending an Open House, but don't forget these core questions that will help you make the best, most informed decision.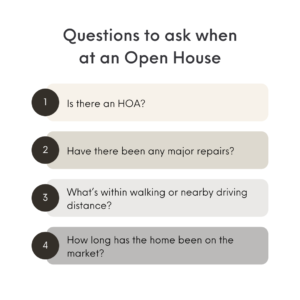 Is there an HOA (homeowners association)? This will give you insight into any additional fees you may have to pay, or rules you must abide by.
Have there been any major repairs? You'll want to know this information if any additional repairs crop up or previous repairs start to wear down.
What's within walking or nearby driving distance? Asking this will give you an inside look at what living in this neighborhood is like, and if it suits what you're looking for.
How long has the home been on the market? If the property has been up for a long time, this may be a red flag. Especially in today's market!
As always, you can call me with property questions and I'm happy to give you the inside edge. There's no peace of mind like moving into a home you already know well.
Have a great week!