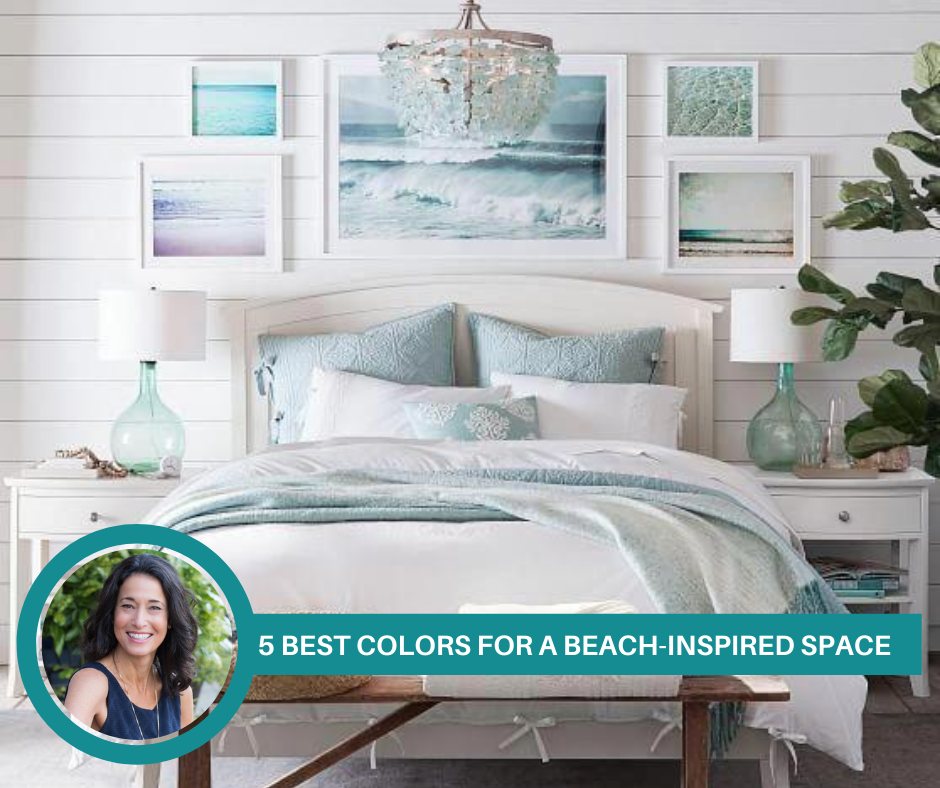 Is the ocean calling your name? If so, here are the best colors for a beach-inspired space, right in your own home!
Inspired by the ocean, coastal style evokes a light and breezy feel. Coastal style blurs the lines between indoors and out. Plenty of light, light colors, pale neutrals and natural materials. Although it is tempting to grab every beach themed item out there, go with more simple pieces that evoke the feel of the beach without hitting people over the head.
Coastal style is most easily identified by its crisp, natural color palette, varying hues of whites, light blues and light greens. It is important to keep the colors in the neutral range to create a light and airy space with a beachy vibe.
Here are 5 of the best colors to use in your beach inspired space:

SEA SALT
1. Sea Salt by Sherwin Williams is the perfect color to use in Coastal Design. Sea Salt is a mix of green and gray, but it can look like a beautiful light blue at different times of the day.

EIDER WHITE
2. Eider White is a gorgeous off-white that is a barely warm gray. The touch of gray and subtle purple undertones gives it a nice contrast against white trim.

CAY
3. Cay: This shade of aqua by Sherwin Williams is a perfect blend of blue and green. It would work great in a bedroom or as an accent color.

PURE WHITE
4. Pure White: Finding the right white is always tricky. Sherwin Williams Pure White that works well with any color palette. It is a go to for walls, trim or cabinetry. This white has a touch of gray that keeps it from feeling to stark and washing out your space.

PALE OAK
5. Pale Oak: This color from Benjamin Moore is quickly becoming a favorite. It has enough warmth in the gray family to keep it from looking cold and sterile. This color is versatile and depending on the room and lighting it can take on different aspects. It really coordinates well with almost all colors and finishes.
If you're thinking about remodeling or redecorating to make your space feel more like home, please contact me. I'd be happy to pass along referrals to contractors or service providers to help you create just the look you have in mind!

Reprinted with Permission from: Deborah Goode at A Goode Start Decorating & Home Staging