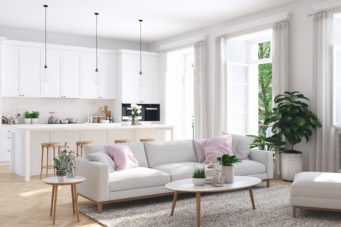 As the world confronts Covid-19 and most of our country remains under stay-at-home orders, the extended time indoors is an opportunity to tackle some home projects. This month's home maintenance checklist focuses on ways to upgrade your rooms with creative restyling and organizing.
Here are some easy projects to create a calm and soothing atmosphere while social distancing at home.
Restyle
Furniture: Move the couch or an armchair to a different wall, swap rugs from one room to another, or switch a lamp to a different spot to create a refreshing new look to your rooms.
Bookshelves: Remove everything from the bookshelves, then restyle them by color. Choose books in three to four neutral and accent colors that work well together and blend with colors used in your home. Add art, photographs and other decorative pieces to complement the books.
Organize
Closets: Take everything out, purge what's no longer used, and clean the interior. Put your most-used items at the front, while seasonal or rarely used pieces can be placed on a higher shelf or in the back.
Spice cabinet: Clean out your spice cabinet and take stock of what you have and what you're missing. Throw away expired spices and combine duplicate spices into one container. Arrange them in alphabetical order, so you'll be able to easily find what you're looking for when cooking.
Bathroom drawers: Empty drawers, wipe them out, throw away expired beauty and other products, and organize remaining contents.
Please contact me if you're planning to sell your home this year. There's a lot that you could be doing during this time to help get it ready!