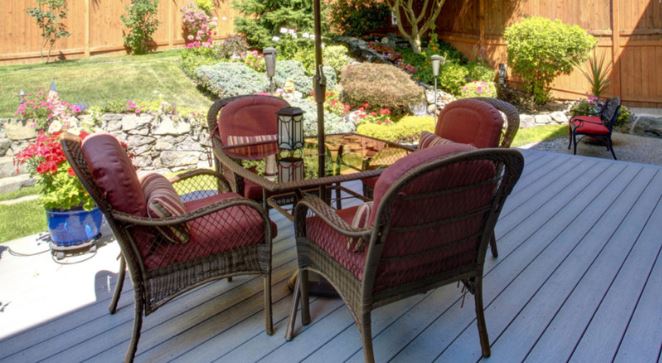 July's home maintenance checklist includes quick and easy tasks to do that will keep your home happy and healthy in the summer heat. With summer in full swing, and the arrival of warmer weather, it's time to prepare your home and yard by cleaning your porch lights and adding mulch to your garden.
Clean porch lights.
Remove glass light fixtures and wash in a dishpan of warm water with gentle soap. For non-removeable fixtures, turn the power off and wipe the exteriors with a damp microfiber cloth, then dry with a soft cloth.
Wash windows.  
Rinse windows with glass cleaner or a vinegar solution, then squeegee them or wipe with a clean microfiber cloth. To avoid using a ladder outside, use a window-washing hose attachment or telescoping window washer, or hire a window-washing service.
Check window screens.
Prevent flying insects from entering your home by checking your window screens and screen doors for small holes and tears. Use a screen patching kit to repair any damage.
Refresh summer whites. 
Keep your white textiles looking crisp by laundering slipcovers, cushion covers and curtains, or sending them out for dry cleaning if they're not machine washable. Keep blinds looking fresh by using your vacuum's upholstery attachment.
Conserve water. 
Cut down on unnecessary water use by watering your lawn and garden during the cooler, early morning hours. If you water when the sun is high, much of the water will evaporate instead of sinking into the soil and being absorbed by the roots.
Primp your plants.
Deadhead both perennials and annuals to keep them blooming. Pull out visible dead foliage from spring bulbs to maintain a tidy garden.
Add mulch.
Control weeds and add moisture to your garden's soil by adding a layer of mulch.
Keeping up with home maintenance is a year-round task. Completing the items on this list this month will help ensure your home looks its best so that you can sit back, relax and enjoy the summer season.
Please contact me if you need recommendations for contractors or home improvement companies to help you keep your home in tip-top shape!

Source: Long & Foster Newsroom