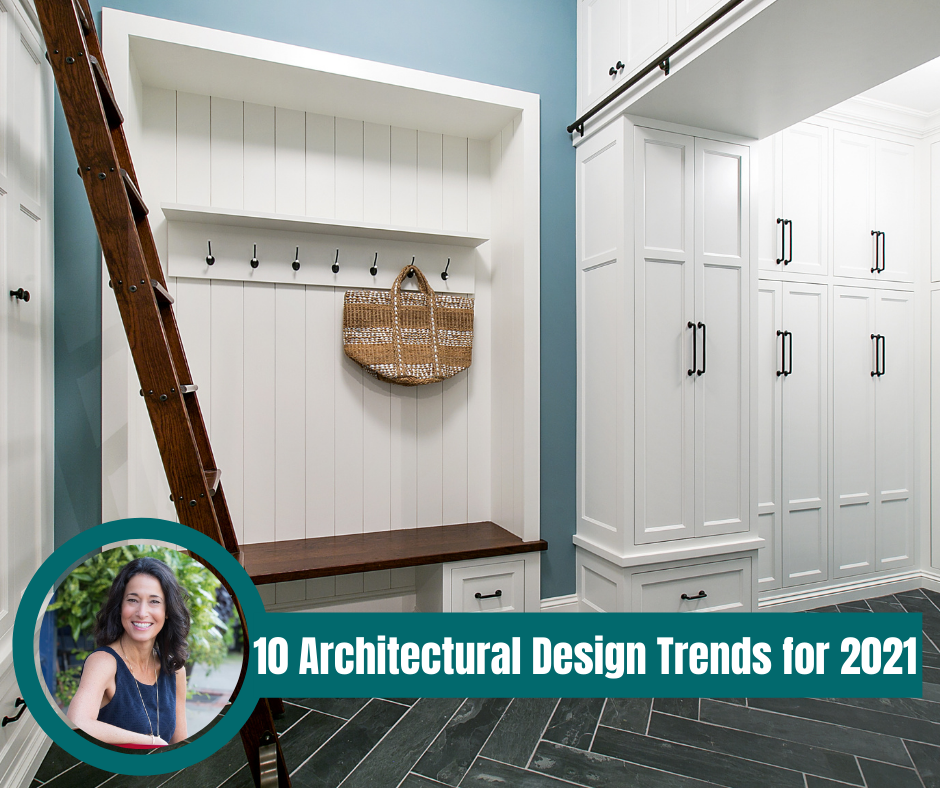 Whether you're renovating to sell, remodeling your home or looking for a new house, following design trends can help you make a good investment. While sellers need to be careful to avoid overspending, understanding the priorities of today's buyers can help them tweak their staging or make minor adjustments to attract top dollar for their home.
The pandemic and subsequent shift to turning our homes into offices, schools, gyms and entertainment centers has already affected new home designs and generated countless remodeling projects. Even the now-routine video calls are causing people to rethink their room arrangements and décor.
10 design upgrades to consider in 2021
Renewed focus on convenience and cleanliness are part of the pandemic reaction among consumers, along with the desire for both comfortable spaces to relax with the family and private areas for work and quiet time. Here are some of the updates that architects and remodelers are introducing to their floor plans and existing homes.
Closing the open floor plan
While open great rooms for socializing and relaxing are still desirable, architects are increasingly adding sliding doors, pocket doors or partitions that can temporarily close off a section of the open floor plan for work or study. In some cases, those partitions are likely to stay closed most of the time for functionality and then opened when entertaining a larger group.
Flexible informal rooms
When entire households are home at once, it can be tough to find the right place for each activity. For many homeowners, the formal living or dining room has been converted into a crafting room, office or yoga space. Sellers can make their homes more appealing to a variety of buyers simply by staging formal rooms as informal flex spaces that can serve multiple functions.
Family entrances get an upgrade
The "family foyer" or entrance off the garage, which is sometimes a mudroom or laundry room, has become more important now that everyone is more conscious of germs and bacteria. Adding a closet or cubbies to leave shoes and backpacks can be a simple upgrade. Even better: Add a sink or connect the space to a powder room for cleaning up before entering the main part of the house. A separate area with hand sanitizer and wipes can also work as a substitute if a powder room is not nearby.
Workspace options
The formal office at the front of the house used to be part of a traditional floor plan. These days, homeowners sometimes need multiple offices with different configurations. With laptops making it easier to move around, an "office" can be created from a niche or nook, as long as it has a power source and adequate lighting. Some homeowners have converted a garage or a walk-in closet to an office, while others have switched out their dining table for a worktable. Architects are now designing home office options tucked under staircases and sometimes putting one on every level of the house.
Fitness niches
Working out at home became a necessity for many homeowners during the pandemic, but not every house has the space for a full gym. However, exercise equipment such as the Peloton bike or the Mirror don't require much room. Architects are designing smaller fitness nooks with space for a bike and room to roll out a yoga mat. Homeowners may be able to find a similar option in their own home.
Homework nooks
In the early days of the pandemic, some families thought they needed to create a classroom in their homes. But for most students, a nook with space for a desk and a laptop works better than sharing a larger room with their siblings or working parents. As children return to in-person learning, that nook becomes a perfect space for homework.
Closed storage and closet organizers
Open shelving became a popular look for kitchens in recent years, but many homeowners realized that when they need to stock up on supplies for their home and office, more storage is required. Nearly every new home, including smaller condos, has a built-in pantry or pull-out shelving. Organizers with multiple height closet rods, drawers and shelves in bedroom closets and linen closets increase functionality and reduce clutter.
Indoor–outdoor living year-round
Views of nature and the ability to enjoy an outdoor space helped many people adjust to staying home more often during the pandemic. While indoor-outdoor living has been an increasingly important trend for years, architects continue to increase their focus on creating wider connections with the outdoors with the use of telescoping, sliding and bifold glass doors. These options are gradually becoming less costly, too, so homeowners can explore adding them to their homes. Outdoor heaters, fire pits and cozy seating options are trendy and a good way for sellers to showcase their outdoor space.
Zoom-worthy backgrounds
Getting a sneak peek into coworkers' homes had everyone testing out new locations for video calls. Now architects are designing "Zoom rooms" with pocket doors that can close off the space for privacy, bookcases, built-in display for collectibles and layered lighting options, such as sconces, overhead lighting and optimally placed windows for natural light.
New attention on front entrances
While real estate agents are aware of the importance of making a good first impression with a freshly painted front door and an appealing entryway, both exterior and interior entrances are getting renewed attention. Replacing or painting a front door can bring a swift return on investment for sellers and it's a simple facelift to improve the appearance of any home. Inside, many homeowners are creating a place for residents and guests to remove their shoes and sanitize their hands before proceeding into the rest of the house.
Informal floor plans with an open area for gathering with friends and family continue to be on trend, but homebuyers are likely to see a few smaller rooms that work for fitness, an office or a place to just relax alone for a few minutes in the future.
If you'd like my suggestions about the best renovations for your home, or if you need a recommendation to a local contractor, please contact me. I'd be happy to share my knowledge and resources with you.

Source: Long & Foster Newsroom